Dental Fillings
Fillings help restore teeth damaged by decay back to their normal function, and can prevent further decay. Your dentist will consider a number of factors when choosing which type of filling material is best for you. These factors include the extent of the repair, where the filling is needed and the cost.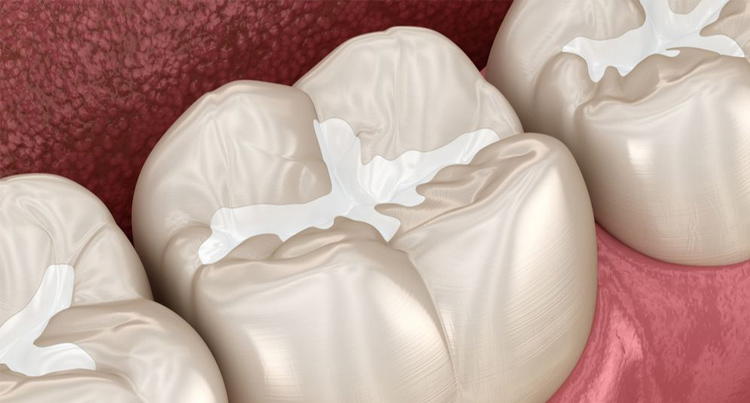 What is a Filling?
A filling is a way to restore a tooth damaged by decay back to its normal function and shape. When a dentist gives you a filling, decayed tooth material is removed, the affected area is cleaned, and then the cleaned out cavity is filled with a filling material. By closing off spaces where bacteria can enter, a filling also helps prevent further decay.
Materials used for fillings include gold, porcelain or, more commonly, a composite resin (tooth-coloured fillings). Here at Bespoke Dental Studio we are a mercury-free practice and thus do not offer amalgam fillings.
Which Type of Filling is Best?
No one type of filling is best for everyone. What's right for you will be determined by the extent of the repair, allergies to certain materials, where the filling is needed, and the cost.
Gold fillings are made to order in a laboratory and then cemented into place. Gold inlays are well tolerated by gum tissues, and may last more than 20 years. For these reasons, many authorities consider gold the best filling material. However, it is often the most expensive choice and requires multiple visits.
Composite (plastic) resins are the most common type of filling. They are matched to be the same colour as your teeth and therefore used where a natural appearance is desired. The ingredients are mixed and placed directly into the cavity, where they harden. Composites may not be the ideal material for large fillings as they may chip or wear over time. They can also become stained from coffee, tea or tobacco, and do not last as long as other types of fillings.
Porcelain fillings are called inlays or onlays and are produced to order in a lab. They are then bonded to the tooth. They can be matched to the colour of the tooth and resist staining. A porcelain restoration generally covers most of the tooth. Their cost is similar to gold.
Temporary fillings Short-term ('temporary') fillings may be used when multiple appointments on a tooth are required, if there is insufficient time to complete the treatment in one visit, or during emergency treatment.
What Happens When You get a Filling?
If your dentist decides to fill a cavity, he or she will first remove the decay (also known as dental caries) and clean the affected area. The cleaned-out cavity will then be filled with any of the variety of materials described above.
What causes a filling to fail?
Constant wear and tear can cause fillings to wear, chip or crack, which can open the seal between the tooth and the filling and allow food particles and decay-causing bacteria to enter. However, if you're seeing your dentist regularly, they'll look after this before it becomes serious.