Dental Implants
If missing or damaged teeth have left you feeling self-conscious, restoration through dental implants is the perfect option to give you back your confidence. Dental implants are a natural looking restoration option for missing or badly diseased teeth and offer a great alternative to dentures.
What is a Dental Implant?
A dental implant is a screwlike anchor, usually made of titanium, that is used as an artificial replacement for natural tooth roots. Implants can be used to replace a missing tooth or several teeth and can also be used to support full or partial dentures without the need for adhesives.

Am I a Suitable Candidate for Implants?
If you are in good general health and your jaw can support implants, this treatment may be a good option for you. Your health is more important than your age.
However, implants are not a good option for everyone. Patients need to have enough jawbone and be free of periodontal disease. Chronic illnesses such as diabetes, thyroid problems and leukaemia can slow down healing, as can tobacco use. Conditions such as osteoporosis, cancer or auto-immune disease may be a contraindication to implant placement.
Also, you must have a strong commitment to oral hygiene and regular professional check-ups to ensure longevity of your implants.

What are the Benefits of Implants?
If you are in good general health and your jaw can support implants, this treatment may be a good option for you. Your health is more important than your age.
Look and feel like natural teeth.

Can replace single or multiple missing teeth.
Can be used to secure your dentures.
Do not interfere with your healthy teeth.
Have a very high success rate.
Enable you to enjoy the foods you love and have missed.
How does this work?
A dental implant is the metal root, which is inserted into the jawbone. The artificial tooth is attached to the implant by use of an abutment. In some cases, instead of an artificial tooth, an implant can be fitted with special clips or attachments to hold a denture. The studs will minimise movement of the denture.
Following the consultation, the patient will receive a referral for a CBCT scan to further clarify any underlying pathology and map out all vital structures relating to the proposed implant site. If any further treatment is required prior to implant placement, such as bone grafting or a sinus lift, the patient has the peace of mind of knowing that Dr Pather is also trained to perform these procedures.
What are the Risks of Implants?
Like any surgery, dental implant surgery poses some health risks. Problems are rare, though, and when they do occur, they're usually minor and easily treated. Risks include:
Infection at the implant site
Injury or damage to surrounding structures, such as blood vessels
Nerve damage, which can cause pain, numbness or tingling in your natural teeth, gums, lips or chin.
Sinus problems, when dental implants placed in the upper jaw protrude into one of your sinus cavities.
What does a Dental Implant Look Like?
A dental implant is technically just the titanium screw. However, implants are generally thought of a 3-part structures consisting of the implant (base or root), the abutment (connector between the root and the tooth) and the crown (tooth).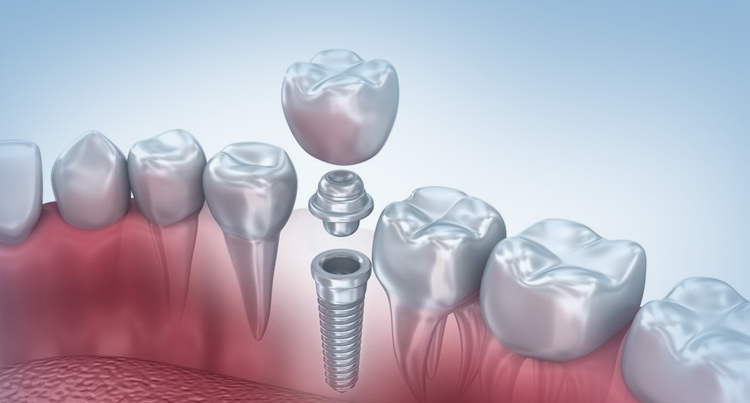 What Is The Procedure For A Dental Implant?
What Is The Procedure For A Dental Implant?
Dental implant treatment can take 3 - 6 months from start to end and follows a three-step process:
1

Your damaged tooth is removed and the implant is inserted into the jaw. It will take 3 to 6 months for the implant to fuse with the jawbone, during which time the gum is secured over the implant. This process is called osseo-integration

2

After 3-6 months, the implant is uncovered and an extension called an abutment is attached. The implant with its attached abutment act as the foundation for the new tooth.

3

Finally, a crown will be made to best suit your natural teeth, considering factors including size, shape and colour. Once completed, the crown is attached to the implant post and you can enjoy your beautiful new smile!
How Implants are Used to Replace Missing Teeth
Implants can be used to replace a single tooth, several teeth or to support a denture

What Is a Bone Graft/ Sinus Lift?
In certain situations where teeth have been missing for a long time, your natural bone may have shrunk to the point where implants cannot be placed in the usual way.
In these cases, a bone graft or sinus lift may be necessary. This is a relatively common-place procedure but still requires a skilled surgeon. Here at Bespoke Dental Studio, Dr Ravi Pather has undertaken all the training required to perform these procedures.
A sinus lift involves lifting the membrane that lines your sinus away from the sinus floor, thereby making more room for implant placement.
A bone graft involves placing a synthetic bone replacement material into the space where implants are to be placed. The bone graft is left in place for about 6 months to heal. During this time it develops its own blood supply and turns into natural bone.
Do Implants Last Forever?
Implants are an excellent long-term option for smile restoration. However, the answer to this question will depend on how well you take care of the implants, how regular you are with recalls and how well you maintain your periodontal health. General statistics show that more than 90% of implants will still be functional at 10-12 years but may need replacement after that time. While no dental treatment can ever be gauranteed for life, dental implants will stand the test of time if immaculate dental hygiene is adhered to with regular professional dental maintence.
Oral Hygiene Protocol
Patients who have implants must commit themselves to a lifetime of stringent oral hygiene. This ensures that the tissue surrounding the implants remains healthy. Plaque and bacterial build up will cause inflammation of the gums and will ultimately destroy the bone around the implant and thus lead to implant failure.
Brush at least twice a day and use appropriate interdental tools.
1

Brushing – use a manual or an electric toothbrush. For more efficient cleaning, an electric toothbrush is recommended but only after the implants are fully integrated.

2

Interdental Cleaning - interdental brushes, oral irrigators or floss are all appropriate to use
You must maintain regular 6 monthly check-ups to ensure that your investment in implants will serve you for many years

Why Choose Us?
With over 30 years of experience Bespoke Dental Studio is one of the Illawarra's premier implant centres
All done in one place and by one surgeon- from placement of implants to bone grafts, sinus lifts and restoring the implant- you know you are in the good hands of a trusted and well-trained implant clinician.
Over 5000 implants successfully placed
Use of the latest technologies to ensure a smooth and stress-free implant journey.
General anaesthesia available-Dr Pather is accredited and affiliated with Wollongong Day Surgery for those patients who prefer to be asleep through the surgical process.
Key hole surgery with digitally guided implant placement for precision.
Competitively priced.

Want to know more about Dental Implants?
Have a specific requirement? Contact the experts today!