Dentures
Dentures are removable false teeth that are worn to replace missing teeth. These artificial teeth are generally made of acrylic and designed to best match your natural teeth. In the past, it was common to pull out natural teeth as soon as there was a problem, and replace them with dentures. These days, oral health professionals aim to help you keep your natural teeth for as long as possible.
The base of a denture is called a plate and is usually made of either acrylic resin or metal. Dentures can be taken out and put back into the mouth, and they are available as either full or partial dentures, depending on how many teeth need to be restored.
Dentures can help you to continue to eat and drink normally. They can also help to maintain your appearance if some of your teeth have become damaged or are missing.
With good care, teeth can last a lifetime. But even with good care, it may be necessary to get a full or part denture to replace damaged teeth at some point. If you have lost your natural teeth due to damage, decay or injury, dentures can replace your missing teeth and restore your smile.
Dentures offer a natural looking solution, enhancing your appearance and benefiting your health. Today's dentures are natural looking and more comfortable than ever.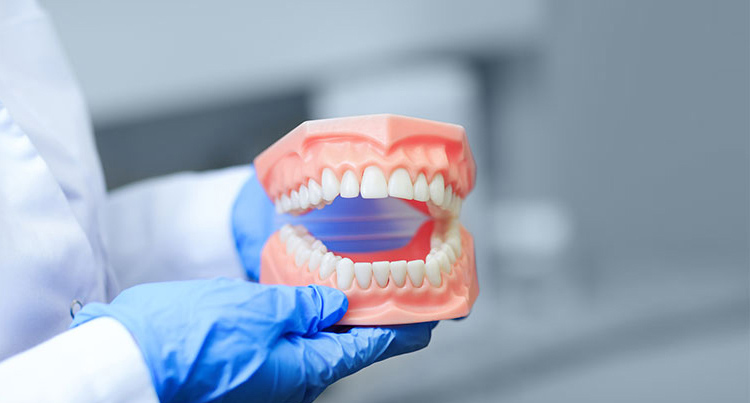 Types of dentures
There are 3 main types of dentures:
A full denture rests on your gum and replaces all your teeth on your upper or lower jaw, or both.
A partial denture replaces some teeth and is held in place by clasps around your remaining teeth.
An implant-retained denture replaces one or more teeth and is fitted through implants in your jaw.
Making Your Dentures
The following steps will likely be followed during the construction of your dentures
1

Tooth removal if required. If you are having teeth removed and need a denture, your dentist may suggest waiting a few months after the teeth have been removed so that your gums can heal and the need to adjust the finished denture is minimised. However, if you need a denture immediately after a tooth is removed, an 'immediate' denture may be fitted during the same appointment that your tooth is extracted. Immediate dentures are moulded over the gums immediately after the teeth are removed whereas conventional dentures are moulded over the mouth cavity once the gums have had several weeks to heal. Immediate dentures offer the appeal of having your new teeth straight away, although because they have been moulded to your gums before they have had a chance to heal and take their final shape, you will be required to visit your dentist for adjustments to ensure they fit in the mouth properly. This can result in ill-fitting and uncomfortable dentures, and a higher cost for modifications in the long run

2

Impression: Moulds of your mouth will be taken in order to create a denture that's tailored to you. This may be done using impression trays or through 3D scanning of your mouth.

3

Bite moulds: Wax blocks are used to check that your biting action is comfortable. You may also be asked to choose the shape and colour of your new teeth at this point.

4

Wax models: Your new teeth are set in wax, helping you get a better idea of how your final denture will look and work.

5

Fitting: Your final denture is fitted and you will be given instructions about how you should care for it.
Living With Dentures
Dentures are custom-made to fit your mouth. However, as with a new pair of shoes, even the best made denture/s will feel a little irritating at first as you adjust to how they fit and feel within your mouth. You may need to return to your dentist for minor adjustments if you experience pain or sore spots.
It may take a few weeks to feel comfortable wearing dentures. At first, speaking and eating take practice, the dentures may feel loose or bulky in the mouth, and there is usually some extra saliva flow. However, with time, these effects fade.
While adjusting to living with dentures, practice speaking alone and with a close friend to build back your confidence speaking in public situations. Over time, your mouth muscles will adjust and your speech will improve. Eat soft foods cut into small pieces at first, and gradually return to your normal diet as you learn to chew and bite with your new teeth. Just be sure to avoid sticky, hard or chewy foods that your dentures may not be able to handle.
Caring for your dentures
Daily:
Brush your dentures morning and night with a soft bristled toothbrush
Use soap and cold water or a commercial denture toothpaste. Do NOT use conventional toothpaste as it is too harsh
After cleaning your dentures, leave them in cold water overnight to avoid your dentures from drying out. Do not use hot water as this may warp the dentures
Rest your gums overnight by leaving your dentures out
Weekly:
Soak your dentures once a week in water and a commercial denture cleanser. Avoid soaking in diluted bleach or vinegar as this may damage your dentures.
Brush and rinse your dentures before and after soaking